1.1.
3D model for 3D printing
3D printers aren't something super confidential like nuclear weapon that only a limited number of countries can have and use it! Everybody can buy a 3D printer and make his/her favorite objects.
Generally, there are two kinds of printers:
 1.1.1. Color 3D printers
 1.1.2. Mono-color 3D printers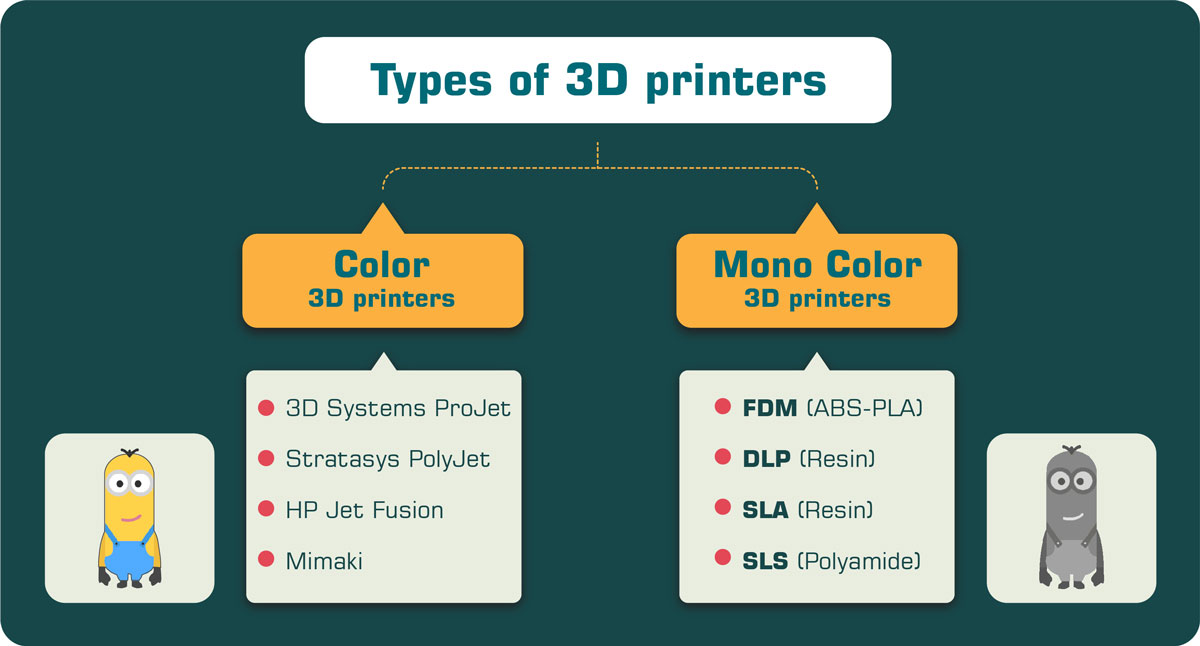 (3D printer types)
Before making or ordering a 3D model, consider the type of 3D printer you want to use. As you see, Although Texture is the most distinctive difference of these two types of 3D printers, the final result of them are different in many ways that you can read more about them at Color and classic sculptures article.
1.1.1.
Color 3D printer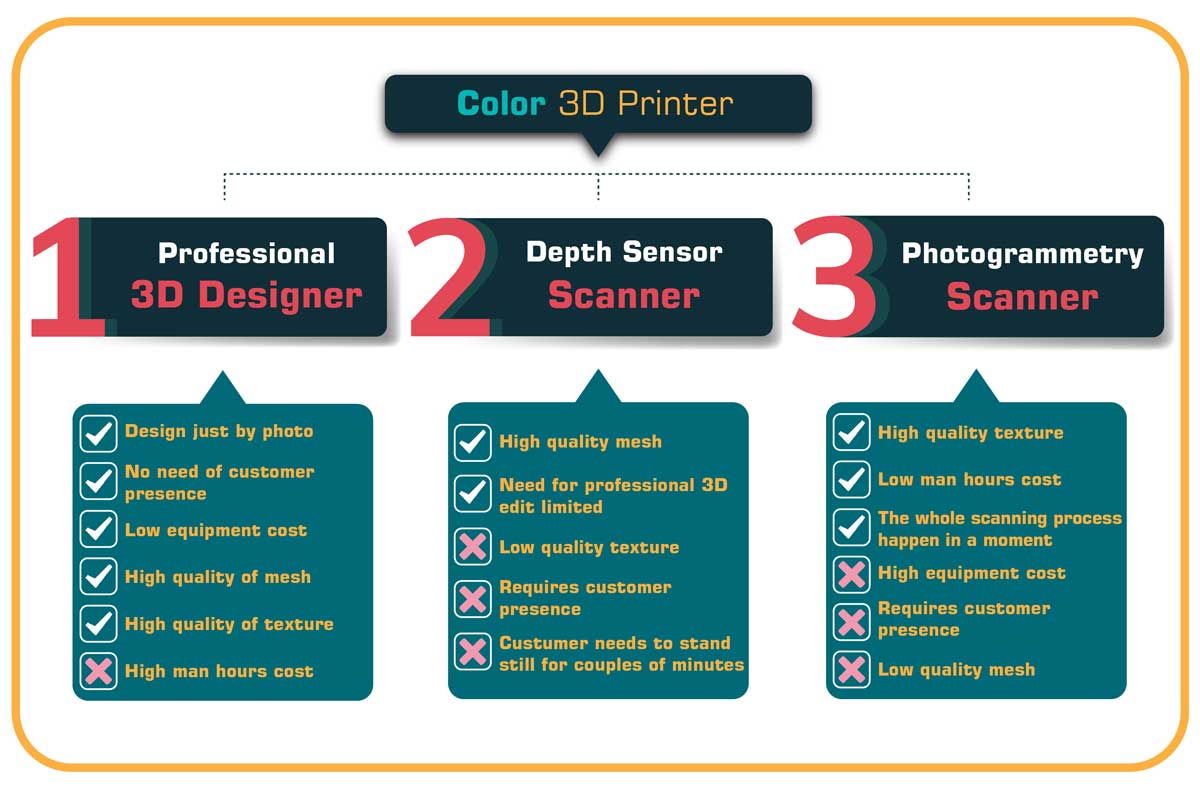 (color 3D printer guide)
At the above picture, you see some of the suitable software for 3D modeling and features of each one. It can help you to make a better desicion, How? ...

 1. You want to design the 3D model yourself? use ZBrush software,
 2. You want to use depth scanners? Structure sensor, kineckt, 3D system sense, Artec and Shapify are good ones,
 3. You are thinking about photogrammetry scanners? We suggest you Agisoft and AutoDesck.

For working and making objects with color 3D printer, you can get help from a professional 3D designer, a depth sensor scanner, or a photogrammetry scanner. These ways give you a 3D model of the object or face and you can print it easily.
You should know that texture have a high impact on the similarity of model and the object. If you remove the texture from the low-quality 3D model, most of similarity will disappear and that's not good. So, if you're looking for a color 3D model with high-quality of mesh, it's better for you to know that photogrammetry scanners can't do that.
1.1.2.
Mono-color 3D printer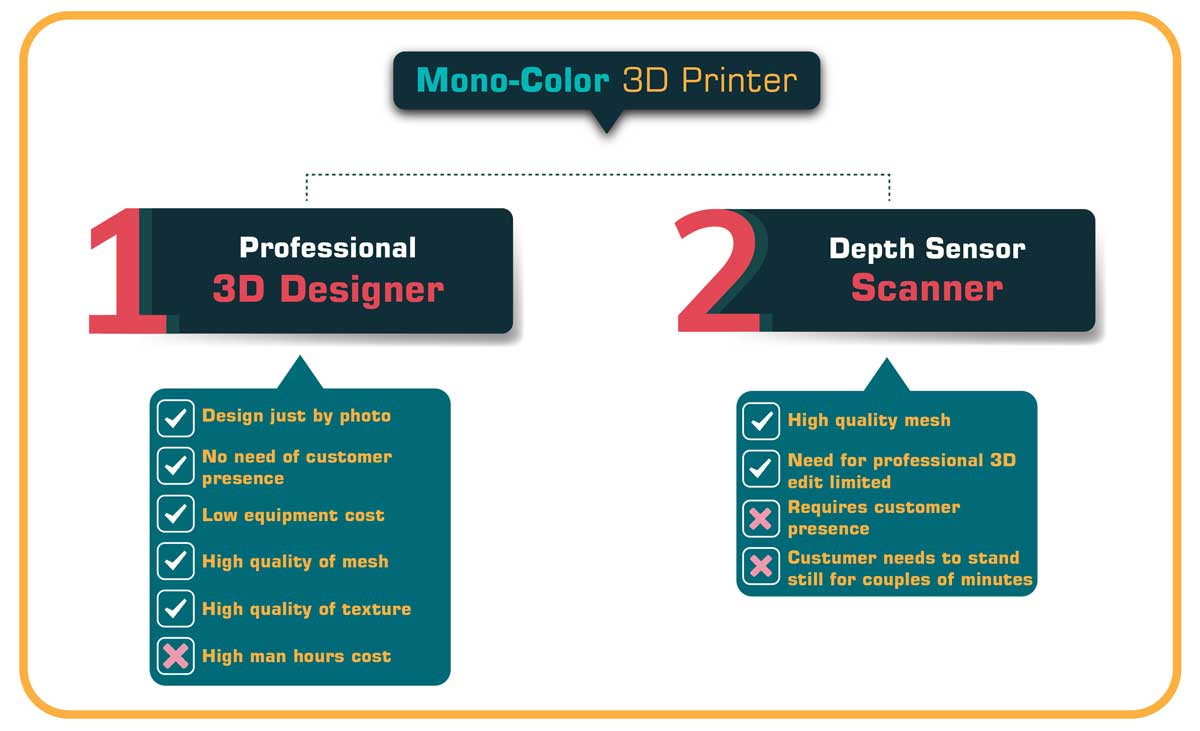 (mono-color 3D printer guide)
If you want to make a 3D digital model for mono-color printers, you have two options:

 1. Using ZBrush software,
 2. Using depth scanners like Structure sensor, kineckt, 3D system sense, and Artec

As we mentioned before, the most distinctive difference of mono color and color 3D printers is texture. If you are working with mono color 3D printer, quality of mesh is the only factor that determines similarity of an object and its 3D model.
ORDER CUSTOM BUSTS
Have you ever thought about making custom sculpture of your loved ones?
Think now
1.2.
3D model just for fun!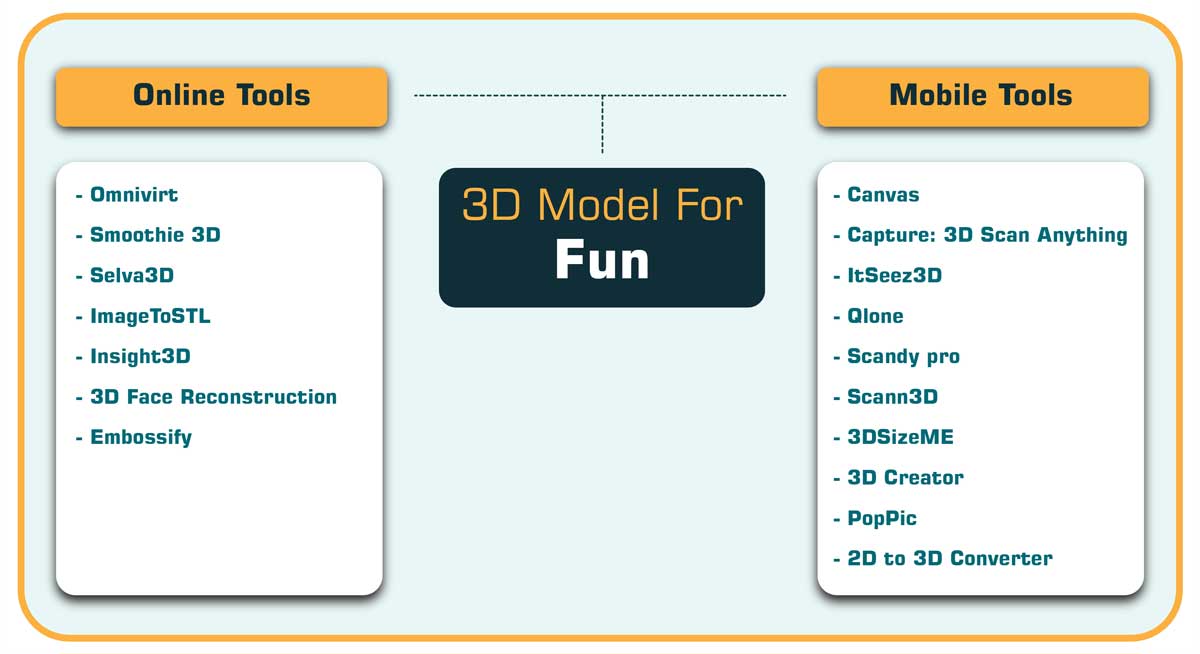 (Online and mobile tools for converting 2D to 3D)
Sometimes, you just want to make a 3D model of your selfie or your dog just for fun! You don't want to spend a lot of time and money for designing. In these cases, mobile and online tools are the best choices.
All you need is installing following apps on your smartphone or visiting websites and uploading your images. At a few moments, your 3D model is ready and you can share it on social media with your friends.
1.2.1.
Mobile tools for scanning objects
3D scanning with a smartphone is a great alternative to high-priced scanning equipment. With a little bit of clean up, you can recreate some of your favorite physical objects.

Limitation of using mobile tools

Time:

It's likely you'll spend a lot of time trying to get many of these apps to work, and that can be frustrating for people who just want a good scan.

Effort:

In order to extract the best possible quality out of your 3D scans, retouching in software is needed.

Results:

Poor quality images are a common problem with the current generation of 3D scanner apps, as many smartphones lack the necessary hardware for a good scan.


There are some smartphone apps here for
3D scanning
and making 3D model of objects. All of them work based on photogrammetry and create 3D models out of 2D images. All you need is taking photos from different angles and stitching them together with 3D scanning technology that you've installed it on your phone with these tools.
| Icon | Scanner app | Operating system |
| --- | --- | --- |
| | 3DSizeME | IOS |
| | 3D Creator | Android |
| | Canvas | IOS (iPads only) |
| | Capture: 3D Scan Anything | IOS (iPhone X) |
| | ItSeez3D | IOS (iPads only) |
| | Qlone | IOS/Android |
| | Scandy Pro | IOS (iPhone X) |
| | Scann3D | Android |
| | PopPic | Android |
| | 2D to 3D Image Converter | Android |
1.2.2.
Online tools for converting face image to 3D model
In the following, there are some of the best online tools for converting single face image to 3D model.
Read more about them at: Convert photos into 3D with online tools
| Online tools | Brief Description |
| --- | --- |
| OmniVirt | OmniVirt's free 3D photo creator mobile application allows users to easily transform 2D photos into 3D. |
| Smoothie 3D | Online Smoothie 3D platform uses one image to create an online smooth digital model. |
| Selva3D | Convert images, drawings, logos or anything you can imagine into 3D STL files for 3D printing. |
| ImageToSTL | Use this free online tool to convert images into 3D .STL files suitable for 3D printing or loading into your favourite 3D editing package. |
| Insight3d | With Insight3D, you can create a 3D model from a series of images of a real scene. |
| 3D Face Reconstruction | In 2017, British researchers revealed an interesting AI-powered tool that turns your face into a 3D model. |
| Embossify | Embossify is an online design utility service to transform .JPEG images into 3D STL files suitable for 3D printing or CNC routing. |
1.3.
3D model for using in an animation
3D modeling is used for producing video-games and movies. 3D modeling process produces a digital object capable of being fully animated, making it an essential process for character animation and special effects. You can see the most common software used in making 3D models for movies and video-games.
| Icon | Software | Application |
| --- | --- | --- |
| | Houdini | Creating 3D models for animations (Developed by SideFX) |
| | Maya | Creating 3D models for visual effects (Developed by Autodesk) |
| | Blender | Creating 3D models for animated films, visual effects, art, printed models, motion graphics, ... (Developed by Blender foundation) |
| | 3Ds Max | Recommended for making video-games, 3D animations, models (Developed by Autodesk) |
TRY A SCULPTURE
Make polymer and bronze sculptures with Selfix.
Try It Now
SPECIAL OFFER
Have you ever thought about making custom sculpture of your LOVED ONES!?
Think about it NOW.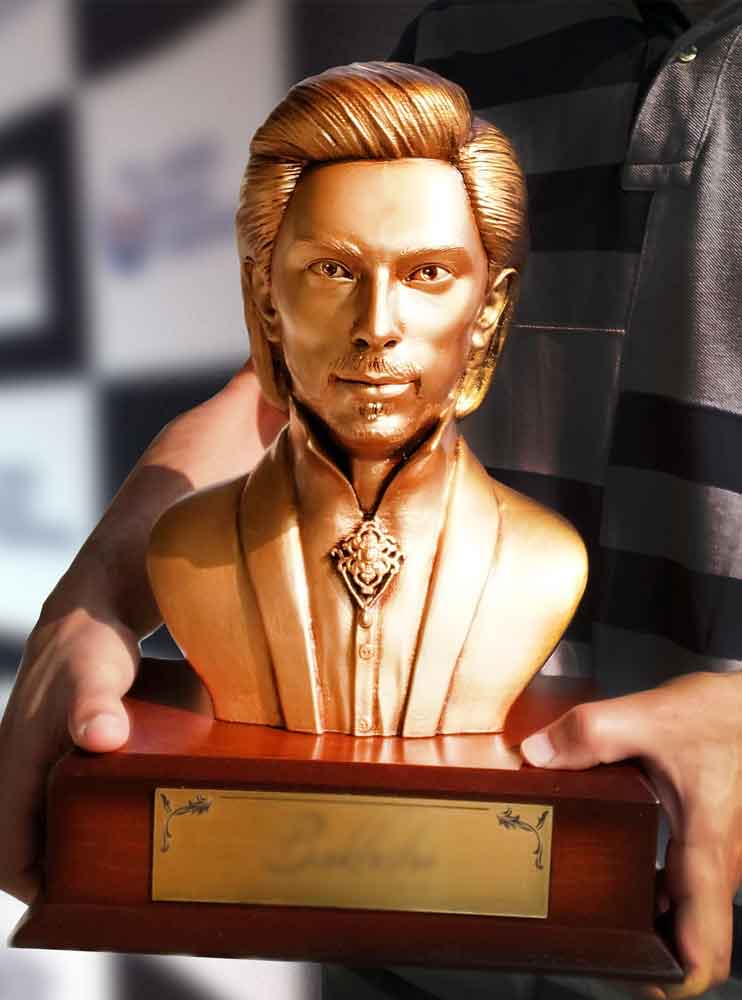 Try sculpture